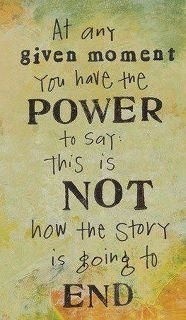 In all of my coaching services options, we'll have powerful conversations that help you identify next steps, set goals, identify values and beliefs, help you find motivation and drill down to what's most important in your life.
Together, we'll create a focus list of action steps and exercises for you to work on in between our calls.  Coaching is wonderfully productive, because you're always making progress.
I work with clients from around the world, via phone.  The phone is an excellent way to do coaching as no time, money or energy is wasted getting to your appointment!  Coaching via telephone also has the advantage that you can choose the coach that is perfect for you, regardless of location.
Why hire me?
You're in intense emotional pain.
You're ready to let go of the past but don't know how.
You're stuck in the grieving process.
You're struggling to get through a Divorce or relationship break up.
You're struggling to recover from disordered eating or body image issues.
You're struggling with poor self esteem or self image.
You're facing overwhelming personal challenges.
You're feeling stuck in your life & unsure how to move forward.
You're ready for significant life change, that includes achieving Life Fitness Goals.
You want to get fitter & healthier inside & out.
You want to be satisfied with your life, happy & successful.
You want to set goals & reach them.
You want to be encouraged & motivated.
You have a specific goal in mind, but need support to achieve it.
You want to live smarter and better and feel more empowered.
You need unconditional support.
Although I specialize in Recovery Coaching (divorce recovery, bereavement/loss, disordered eating and body image issues, etc.) and self empowerment, I love Coaching all motivated individuals who are ready and dedicated to making a significant change in their lives.
Coaching Packages:
Coaching sessions are approximately 60-75 minutes in length (1st one may be longer as we get to know each other and how I can provide the most value to you).  The length & frequency of coaching sessions is dependent on each individual's needs and is determined by mutual agreement.
Coaching Packages are Recommended:  They are more Cost Effective & Achieve Greater Results Due to the Upfront Commitment Required 
Individual Coaching Sessions: The cost is $175 per session  if they are scheduled one at a time and will be billed prior to services being rendered.
The following are Coaching packages available at a cost savings.   All services will be billed prior to initial service via PayPal.  
Coaching Package A:  6 sessions  (2 per month for 3 months) for $900; billed prior to services being rendered. (at price per session cost = $1050; a savings of $150) Can be paid in full or billed in three monthly installments.
Coaching Package B:  8 sessions (2 per month for 4 months) for $1200; billed prior to services being rendered. (at price per session cost = $1400; a savings of $200)  Can be paid in full or in 4 monthly installments.
Coaching Package C:  12 sessions (3 per month for 4 months or 2 per month for 6 months) for $1680 ; billed prior to services being rendered.  (at price per session cost = $2100; a savings of $420) Can be paid in full or billed in 4 or 6 monthly installments.
Monthly coaching includes email support, and occasional 5 minute calls as needed.  All bills will need to be paid before services are rendered.
24 hours notice is needed to reschedule or fee for that session will be forfeit.
*** It is recommended that a client make a 3 month commitment to the coaching process to allow time for rapport building, clarification of goals, and successful goal attainment of shorter term goals.
*** Regular and consistent sessions as outlined in the above packages promote the quickest progress, but once purchased, the actual scheduling of sessions can be tailored to fit individual needs.
If you are concerned about the cost of Coaching, ask yourself these questions:
"What is the cost to me and to my family if I remain stuck in my pain, feeling dis-empowered and unable to move forward?"
"What will my life look like and how will I feel a year from now if I don't take this opportunity?  Is that what I want for my future?"
First Step:
If you're interested in coaching we can have a free introductory coaching session to help you experience coaching for yourself.
I look forward to meeting you!
Stephanie E.