A healthy recovery from Divorce includes cleaning out your physical closets and splitting up assets; getting rid of extraneous clutter and items that no longer hold the same meaning; and restructuring and reorganizing the external aspects of your life.  But, if you stop there, you're only half done.   Complete Divorce Recovery also requires cleaning out your "inner closet."  This is the internal space where you store all your cognitive and emotional "stuff."  Stuff like memories, beliefs, and strong emotions.

The stuff you've stored away in your inner closet is a combination of positive stuff and negative stuff.  The positive stuff might include happy childhood memories, a belief that you can do whatever you set your mind to, and the treasured joyous emotions you felt at the birth of your children.  The negative stuff might include graphic memories of the tragic death of a loved one, the self-defeating belief that Divorce equals failure, and toxic resentment toward your ex-partner.
Sorting Through Your Inner "Stuff"
Going through a Divorce can feel like a very unpleasant, stressful, and sometimes scary emotional Roller Coaster ride that you have no control over.  Even if the decision to divorce was mutual or your idea, there are a lot of things you don't have control over…the other person's feelings and behavior, the court system, other people's reaction to the situation, etc.  You do, however, have a lot more control than you may think at times.
Here are a few of the things you have the power to control:
You have the power to change how you choose to think about things.
You have the power to decide how you are going to act.
You have the power to change the beliefs that no longer serve you.
You have the power to decide which emotions you store in your inner closet and which ones you process and let go of.
You have the power to determine what you value and how you prioritize those values.
Ultimately, you have the power to decide if you're going to cling to the past or do the hard work of sorting through your inner closet and cleaning out all the "junk" that is weighing you down.  The very first step is deciding that you don't want to be any more miserable that you have to be.  Divorce is painful, but you decide if you're going to heap suffering on top of that pain.  Empower yourself to make decisions that are healthy for you.  Decide not to be a victim of the Divorce process, but an active, assertive participant.
Divorce Recovery Challenges
Divorce Recovery means facing many challenges.  Challenges that include: lifestyle and status changes; overwhelming emotions; negativity and a sense of failure; self-defeating thoughts and beliefs; questions about who you are and what you want in your life; and uncertainty about your future.  Facing these challenges head on reinforces you sense of self-empowerment. Each time you're able to successfully navigate a difficult patch with integrity and a healthy response, you're strengthening your trust in your capabilities, your self-esteem, and your self-confidence.

The experience of Divorce changes you…but, that doesn't mean that it has to be in a negative change.  A lot of wisdom can be gained that will make you a better person, and a better partner in the future.  You can choose to learn new skills and improve on others.  Skills like assertiveness, effective communication, emotional regulation, resiliency, and so on.  Using self-reflection, you can pinpoint and take responsibility for your part in the demise of your relationship and you can decide to do things differently, to make needed changes, and to see the relationship with clarity.
Developing clarity and taking accountability for your actions makes it much easier to clean the "junk" out of your inner closet and let go of the negative pieces of the past.  Admittedly, no one likes to own up to their mistakes, but, by doing so, you'll have a lot more room to grow as a person and a lot more inner space to store positive stuff. Your ability to take ownership of your relationship mistakes also allows you to be a better parent.  Doing the internal work necessary for a healthy Divorce Recovery benefits you and all the important people in your life – even the ones that may not yet be in it!
Divorce Recovery: How To Clean Out Your "Inner Closet"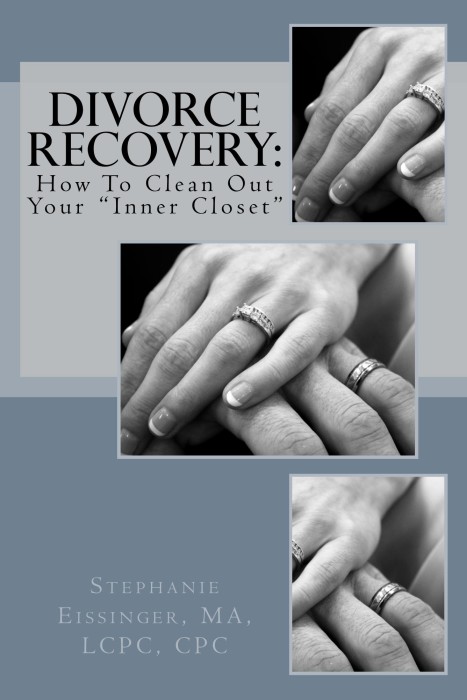 is a great resource to help you move through the mental and emotional side of the divorce process. The strategies and suggestions provided will help you to build or restore self-confidence, trust in yourself, resiliency, and it will help you to take charge of your recovery.
Stephanie Eissinger is a Licensed Clinical Professional Counselor, a Certified Professional Coach, and a Self Help Book Author.  She's spent her professional career empowering individuals to overcome life's challenges to live happier, healthier lives.  Her books include: Divorce Recovery: How To Clean Out Your "Inner Closet," Journey To Self Empowerment: Increase Self Esteem & Self Confidence, and The Fitness Goal Triad: How To Successfully Reach Your Fitness Goals.  Upcoming books include: How To Get an Emotional Divorce and the 3 book Stress Management 2.0 series.
Related Pages/Posts
Divorce Recovery
Wellness & Divorce/Relationship Recovery Life Coaching
4 Ways to Cope With Divorce Anger
Book Resource: Divorce Recovery: How To Clean Out Your "Inner Closet"
8 Exceptionally Good Reasons To Get a Divorce Recovery Coach
6 Steps to "Emotionally Unhook" and Promote a Good Divorce Recovery
Divorce Recovery: What Do You Need To Let Go?
Divorce and Recovery: 8 Strategies for a "Good Divorce"
2016 ©