I'm happy to announce that my book resource, "The Fitness Goal Triad: How to Successfully Reach Your Fitness Goals" is now available on Amazon.com.
Living a happier, healthier life means being fit physically, mentally, and emotionally.  All three fitness component interconnect and influence each other.  Learning more about each and how to set effective fitness goals can help you get the toned, fit body you want, plus function better mentally and emotionally.
Reading The Fitness Goal Triad will help you discover your "fit mentality" and start working toward body, mind, and emotional fitness.  It'll help you understand how attitude and motivation also play a part in whether or not you achieve your fitness goals, and provide you with a sample fitness goal plan and monitoring tools to guide you along the way.
The link below will take you directly to the appropriate page on Amazon books.  Make the decision that you're worth it, invest in yourself, and get started on your fitness goals!
The Fitness Goal Triad: How to Successfully Reach Your Fitness Goals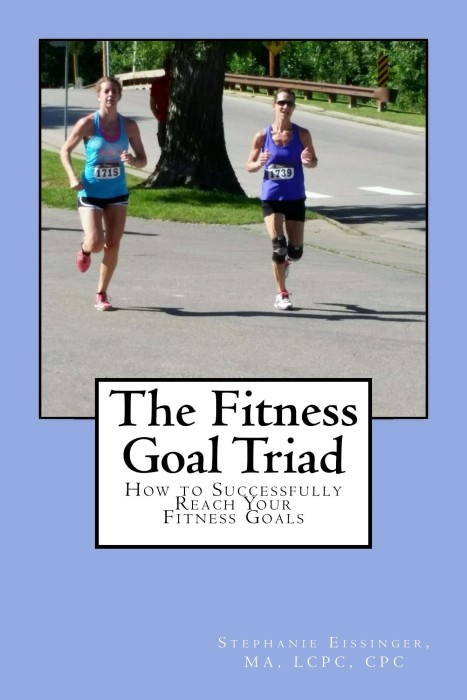 Book Description:
The secret to maximizing your fitness goal success is targeting all three components of your fitness goal triad: Body Fitness, Mind Fitness, and Emotional Fitness.  Each fitness component influences and is influenced by the other two.
Learn how to target and individualize your fitness goals to achieve and maintain, not only physical fitness, but life fitness.  Explore how each of your fitness components interconnect and discover how to prepare for and overcome obstacles to achieving a happier, healthier life.
Gain motivation and powerful insight into your fit mentality and develop goals that practically guarantee your fitness success!
I sincerely hope you find this a valuable resource in your journey to a happier, healthier life – inside and out! I'd love to hear from you…
Stephanie Eissinger
Stephanie Eissinger is a Licensed Clinical Professional Counselor, Certified Professional Coach, and Self Help book author.  She has spent her professional career empowering individuals to overcome life's challenges to lead happier, healthier lives.  She has personal and professional experience dealing with disordered eating, excessive exercising, Divorce/Relationship recovery, grief issues, and stress management.
To Contact Author: Stephanie Eissinger, MA, LCPC, CPC
Additional Book Resources by this author:
Book Resource: How To "Rock" Your Body Image: Improve Body Image & Self Confidence
Book Resource: "Mental Stress Management 2.0: 40 Tips For De-Cluttering Your Inner Closet"
Book Resource: Emotional Stress Management 2.0: 40 Tips For Taming Your Turbulent Emotions
Book Resource: Stress Management Blueprint 2.0: Design Your Own Stress Relief Plan
Book Resource: Divorce Recovery: How To Clean Out Your "Inner Closet"
Book Resource: How To Get An "Emotional Divorce" & Speed Up Your Relationship Recovery
Book Resource: Journey To Self Empowerment: Increase Self Esteem & Self Confidence