I'm very happy to announce that my first book in my Stress Management series is finally revised and re-published on Amazon.com. It's a great resource filled with quick tips on how to de-stress and de-clutter your mind.
Mental and emotional clutter can be detrimental to living a happy, productive life.  The tips provided in "Mental Stress Management: 40 Tips For De-cluttering Your Inner Closet" are proactive ways to decrease the inner chaos that stress and negative thinking can create.  The other two books in the series provide tips for calming turbulent and chaotic emotions (Emotional Stress Management 2.0: 40 Tips For Taming Your Turbulent Emotions) and the ins and outs of designing the perfect stress relief plan for you (Stress Management Blueprint 2.0: Design Your Own Stress Relief Plan).
Stress management resources make a great gift for yourself, friends, family, and even co-workers.
It's a small price for a huge investment in your future!
Amazon.com link: Mental Stress Management 2.0: 40 Tips For De-Cluttering Your "Inner Closet"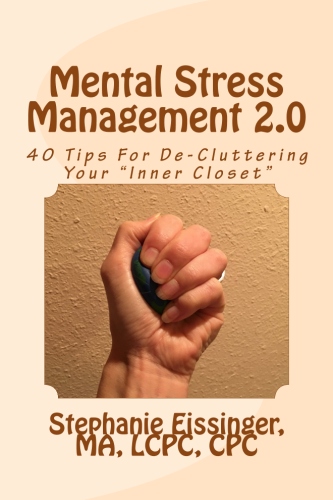 Book Description:
Every day life in these fast-paced, tech-filled, and financially uncertain times is extremely stressful.  We add to our overall stress level by storing unhealthy and unneeded cognitive and emotional stuff to our "inner closets."
After a while, our inner space becomes so cluttered that it's hard to think clearly, deal effectively with the present, and accurately identify and express our feelings.  We become caught up in chaotic thinking and overwhelming negative emotions.
To function at an optimal level and take life's challenges in stride we need to de-clutter our inner closets, sort through our cognitive and emotional stuff, and decide what to keep and what to let go of.
This book is a resource of 40 quick and effective tips to help you de-clutter and de-stress.  Some strategies provide "in the moment" stress relief while others may be more beneficial if they're developed into daily habits.  All of them are great tools to include in your stress relief toolbox.
Read the book cover to cover or skip straight to the strategies that target the source of your stress at any particular time.  One key to reducing stress is having the tools available and easily accessible when you need them.
Using the tips provided in this book  is one way of saying "yes" to taking control of your life and to a future that feels happier, less stressful and more productive!
Stephanie Eissinger is a Licensed Clinical Professional Counselor and a Certified Professional Coach who has facilitated Divorce Recovery classes for over 12 years.  Her current Coaching Practice focuses on Recovery related issues and empowering individuals to live happier, healthier lives.
Self Help Book Resources Available by this Author:
Amazon links:
Mental Stress Management 2.0: 40 Tips For De-Cluttering Your "Inner Closet"
Emotional Stress Management 2.0:  40 Tips For Taming Your Turbulent Emotions
Stress Management Blueprint 2.0:  Design Your Own Stress Relief Plan
Divorce Recovery: How To Clean Out Your "Inner Closet"
How To Get An "Emotional Divorce" & Speed Up Your Relationship Recovery
Journey To Self Empowerment: Increase Your Self Esteem & Self Confidence
The Fitness Goal Triad: How To Successfully Reach Your Fitness Goals
How To "Rock" Your Body Image: Improve Body Image & Self Confidence
To view on Amazon books, just click on the title you're interested in.
Contact the author:  Stephanie Eissinger, MA, LCPC, CPC