Reset Your Relationship With Food: How to Ditch Your Disordered Eating is a guide to discovering what function food has in your life.  Food is often used to cope with intense emotions or as a distraction from more complex problems.  Stress can trigger undesired eating habits.  If you find yourself reaching into the snack cupboard and you're not physically hungry or you suffer from sudden food cravings that lead to overindulgence in high calorie foods, this book will help you break free from this emotional eating pattern.
Book Description:
"Ditch Your Disordered Eating For Good!"
Disordered eating is any unhealthy pattern or habit of eating – restricting foods, eating for emotional reasons, yo-yo dieting, or binging with or without purging. One common denominator in all of these disordered eating patterns is the presence of an unhealthy relationship with food.  Food is no longer a means of fuel and pleasure…it has become a symbol for deeper and more complex issues that lie beneath an individual's level of awareness.
Resetting your relationship with food requires making a mental shift regarding how you "see" food, addressing the underlying problems that your disordered eating is masking or distracting you from, learning the empowering skills to self-soothe without using food, and dealing with these problems directly.  It also requires engaging in self love and self care and finding targeted replacement behaviors that address your unmet needs.
This book is a guide to raising your interoceptive awareness and listening to the signals your body is sending, discovering the meaning behind your food choices and behavior, and clarifying your disordered eating triggers.  It will help you identify empowerment skills you're lacking and become a critical consumer of media and cultural messages.
Buy it now & get started resetting your relationship with food and living an authentic life full of joy, meaning, and success!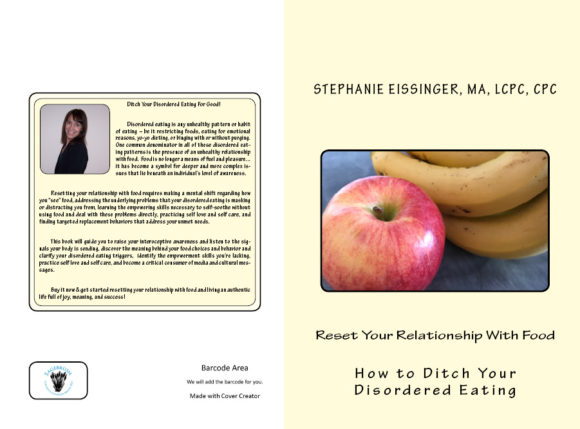 Stephanie Eissinger is a Licensed Clinical Professional Counselor, Certified Professional Coach, Certified Embody Love Movement Facilitator, and Self Help Book Author who's dedicated her life to empowering individuals to overcome life's obstacles to live happier, healthier lives. Her self help books include: How To "Rock" Your Body Image: Improve Body Image & Self Confidence; Journey To Self Empowerment: Increase Self Esteem & Self Confidence; Anorexia Athletica & Hypergymnasia: When Exercise Becomes an Obsession; and The Stress Management 2.0 Series.
Related Pages/Posts
Book Resource: How to "Rock" Your Body Image: Improve Body Image & Self Confidence
Book Resource: Anorexia Athletica & Hypergymnasia: When Exercise Becomes an Obsession
Book Resource: How To Get An "Emotional Divorce" & Speed Up Your Relationship Recovery
Book Resource: The Fitness Goal Triad: How to Successfully Reach Your Fitness Goals
Book Resource: Journey to Self Empowerment: Increase Self Esteem & Self Confidence
Book Resource: Mental Stress Management 2.0: 40 Tips For De-Cluttering Your "Inner Closet"
Book Resource: Emotional Stress Management 2.0: 40 Tips For Taming Your Turbulent Emotions
Book Resource: Stress Management Blueprint 2.0: Design Your Stress Relief Plan
Book Resource: Divorce Recovery: How To Clean Out Your "Inner Closet"

2017 ©