How To "Rock" Your Body Image was inspired by the beautiful and amazing girls and women I've worked with professionally over the years, my daughters, female friends and family, and my own personal struggles with disordered eating and nurturing and maintaining an accurate, healthy body image throughout a lifetime of being female.  Writing it was a labor of love.  Within its covers may you find the path to developing a healthier relationship with your body and yourself.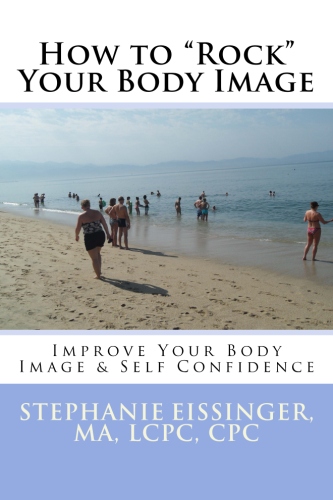 Book Description:
Body image plays a significant role in how we feel about and see ourselves, yet it's often overlooked as an underlying source of depression, anxiety, low self-esteem, and disordered eating.  No matter what size or shape we happen to be in…developing and maintaining a positive, healthy body image is challenging, especially in the extremely competitive and image laden era we live in.
This book is a guide to:
accepting and loving your body and yourself
recognizing body image issues
understanding the costs of a negative body image
developing body confidence and self-esteem
dealing with "fat" days
redefining beauty
becoming the best version of yourself
Discover how to Declare Your Body Image Independence and be inspired by personal essays written by real women of all ages, shapes, and sizes who have learned how to "rock" their body image.
Real recovery from a negative body image requires answering the questions "Who am I?" "Who do I want to be?" and "What do I really want in my life?"
ARE YOU READY TO BUILD A BETTER RELATIONSHIP WITH YOURSELF AND YOUR BODY???  If your answer is a resounding "YES!", click on the link below to get started.
Amazon.com link:  How To "Rock" Your Body Image
To Contact Author: Stephanie Eissinger, MA, LCPC,CPC
Related Pages/Posts
Sagebrush Coaching Self Help Book Resources
Book Resource: Journey to Self Empowerment: Increase Self Esteem & Self Confidence
Book Resource: The Fitness Goal Triad: How to Successfully Reach Your Fitness Goals
Book Resource: Divorce Recovery: How To Clean Out Your "Inner Closet"
Book Resource: How To Get An "Emotional Divorce" & Speed Up Your Relationship Recovery
Book Resource: "Mental Stress Management 2.0: 40 Tips For De-Cluttering Your Inner Closet"
Book Resource: Emotional Stress Management 2.0: 40 Tips For Taming Your Turbulent Emotions
Book Resource: Stress Management Blueprint 2.0: Design Your Own Stress Relief Plan