Seeking and obtaining an emotional divorce is one of the healthiest and most empowering things you can do for yourself when a relationship ends.  It allows you to gain the emotional freedom and the wisdom to enter into a new relationship as a better partner.  One who's learned from past relationship mistakes and who isn't dragging any emotional baggage with them.  "How To Get An 'Emotional Divorce' & Speed Up Your Relationship Recovery is a wonderful resource to guide you on your journey toward emotional healing.
Included among the 12 chapters are: Releasing Intense & Toxic Emotions; Increasing Your Self awareness & Self Knowledge; Revising Your Identity; and Navigating the Relationship Grief Process.
Book Description: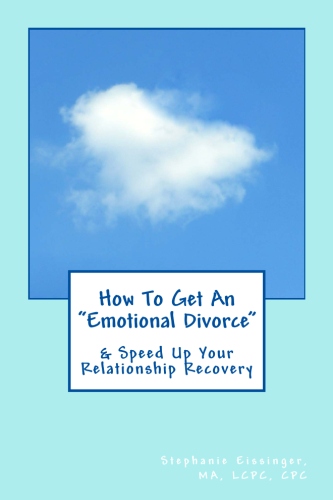 "Break Free From the Emotional Chains of the Past"
When a relationship ends, the most empowering thing anyone can do to move forward is to get an emotional divorce. It takes time to heal emotional wounds, but there is no need to extend this period by adding suffering on top of the pain.  Suffering comes from holding on to toxic emotions that no longer serve their purpose.
Discover how to gain emotional freedom by learning how to release toxic emotions, shift how you think about yourself and relationships, and take other essential recovery-based actions that will speed up your healing process.  Find healthy closure and finalize your emotional divorce.
You'll know you've succeeded when you're no longer interested in looking backwards, but, instead, you're eagerly looking forward with hope and an open heart.
"Buy this empowering guide book, break free from the chains of the past, and get your Emotional Divorce!"
Amazon link:  How To Get An "Emotional Divorce" & Speed Up Your Relationship Recovery
Stephanie Eissinger is a Licensed Clinical Professional Counselor, Certified Professional Coach, Certified Embody Love Movement Facilitator, and Self Help Book Author who's dedicated her life to empowering individuals to overcome life's obstacles to live happier, healthier lives.  Her self help books include: The Stress Management 2.0 Series; The Journey To Self Empowerment: Increase Self Esteem & Self Confidence; How To "Rock" Your Body Image; The Fitness Goal Triad: How to Successfully Reach Your Fitness Goals.
Related Pages/Posts
Book Resource: Divorce Recovery: How To Clean Out Your "Inner Closet"
Book Resource: Mental Stress Management 2.0: 40 Tips For De-Cluttering Your "Inner Closet"
Book Resource: Emotional Stress Management 2.0: 40 Tips For Taming Your Turbulent Emotions
Book Resource: Stress Management Blueprint 2.0: Design Your Stress Relief Plan
Book Resource: Journey to Self Empowerment: Increase Self Esteem & Self Confidence
Book Resource: The Fitness Goal Triad: How to Successfully Reach Your Fitness Goals
Book Resource: How To "Rock" Your Body Image: Improve Body Image & Self Confidence
What is an "Emotional Divorce?"
Divorce Recovery: How to Obtain an "Emotional Divorce" Transcript
7 Steps to Obtaining an "Emotional Divorce" After a Relationship Breakup

2016 ©