I'm very pleased to announce that my Divorce Recovery book is available for sale on Amazon.com.  It's a valuable resource for moving through the divorce recovery process faster and healthier.  It's a great gift for yourself, as well as, a friend or family member who may be facing this difficult and emotionally trying process.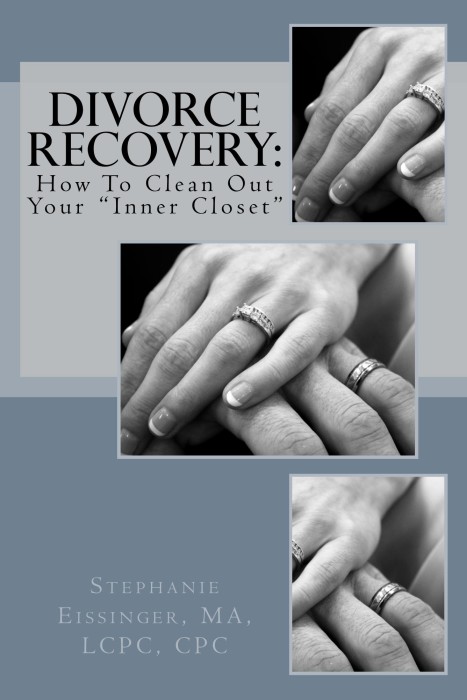 Book Description:
Going through a Divorce is a devastating life event that can have you questioning your core beliefs about yourself, relationships, and the world around you.
You face many challenges:
– lifestyle & status changes;
– overwhelming emotions;
– negativity & a sense of failure
– self-defeating thoughts, beliefs, & behaviors;
– questions about who you are & what you want;
– and, uncertainty about the future.
This book focuses on how to tackle each of these challenges, providing a guide to fast, healthier, more successful Divorce Recovery.  The strategies and suggestions provided will help you to build or restore self-confidence, trust in yourself, resiliency, and put you in charge of your recovery, your present, and your future.
"Instead of shying away from challenges and life's ups and downs, meet them head on with enthusiasm, courage and the determination to live life on your terms."  
Stephanie Eissinger
When it comes to investing in yourself, your present, and your future…this resource provides a lot of great self help information at a very small cost.  If you buy a copy, you'll be making a huge positive, forward step in moving on to a happier place in your life.  The next step(s), of course, is to follow thru on the suggestions provided!
Let me know what you think….
Stephanie Eissinger is a Licensed Clinical Professional Counselor and a Certified Professional Coach who has facilitated Divorce Recovery classes for over 12 years.  Her current Coaching practice focuses on Recovery related issues and empowering individuals to live happier, healthier lives that are self-directed and positive focused.
Additional Book Resources by this author also available on Amazon:
For Book Descriptions:
How To Get An "Emotional Divorce" & Speed Up Your Relationship Recovery
Mental Stress Management 2.0: 40 Tips For De-Cluttering Your "Inner Closet"
Emotional Stress Management 2.0: 40 Tips For Taming Your Turbulent Emotions
Stress Management Blueprint 2.0: Design Your Own Stress Relief Plan
Journey To Self Empowerment: Increase Self Esteem & Self Confidence
The Fitness Goal Triad: How to Successfully Reach Your Fitness Goals
How To "Rock" Your Body Image: Improve Body Image & Self Confidence
To Purchase click on the appropriate link below:
Amazon links:
Divorce Recovery: How To Clean Out Your "Inner Closet"
How To Get An "Emotional Divorce" & Speed Up Your Relationship Recovery
Mental Stress Management 2.0: 40 Tips For De-Cluttering Your Inner Closet
Emotional Stress Management 2.0: 40 Tips For Taming Your Turbulent Emotions
Stress Management Blueprint 2.0: Design Your Own Stress Relief Plan
Journey To Self Empowerment: Increase Self Esteem & Self Confidence
The Fitness Goal Triad: How to Successfully Reach Your Fitness Goals
How To "Rock" Your Body Image: Improve Body Image & Self Confidence
To contact author: Stephanie Eissinger, MA, LCPC, CPC